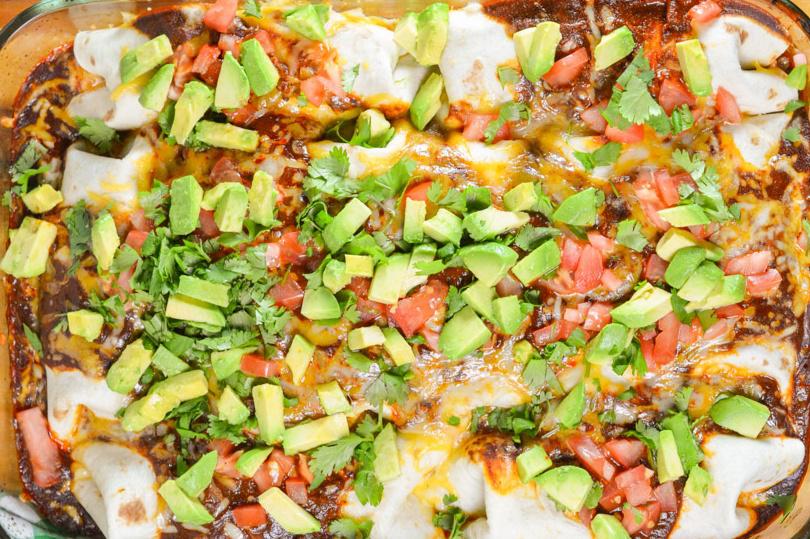 Featured Product
---
Ingredients
---
Mission Super Soft Flour Tortillas
3
tablespoons grape seed oil or olive oil
2 ½
tablespoons corn flour
1
tablespoon grape seed oil or olive oil
1
pound sirloin steak, sliced thin
1
whole red bell pepper, diced
1
whole green bell pepper, diced
Instructions
---
Step 1
Add oil and onion to a medium sized saucepan. Cook over medium-high heat until onion starts to caramelize. Stir in garlic, chili powder and corn flour. Stir for about 45 seconds until fragrant.
Step 2
Slowly stir in water to prevent lumps. Add remaining ingredients and stir until well combined.
Step 3
Simmer over low heat while making steak filling.
STEAK FILLING
Step 4
In a large skillet, heat butter and oil over high heat until hot. Add steak in a single layer and cook until steak starts to brown. Flip steak over and add onions, bell peppers and jalapeño if using. Cook until onion is softened.
Step 5
Stir in 3/4 cup enchilada sauce. Remove from heat to prevent over cooking the steak.
TO ASSEMBLE
Step 6
Preheat oven to 400 degrees.
Step 7
In a large oven safe baking dish place a thin layer of enchilada sauce and set aside.
Step 8
Lay tortillas on a work surface. Spread with a heaping spoonful of refried beans. Top with 2 spoonful of steak filling. Cover with 2 tablespoons cheese mix.
Step 9
Tuck sides in and roll like a burrito. Place seam side down in enchilada sauce in baking dish.
Step 10
Cover the center of each rolled burrito with a strip of enchilada sauce and cover with remaining cheese.
Step 11
Bake uncovered for 15-20 minutes until cheese is melted and burritos are hot. Garnish with desired condiments or serve on the side.
---