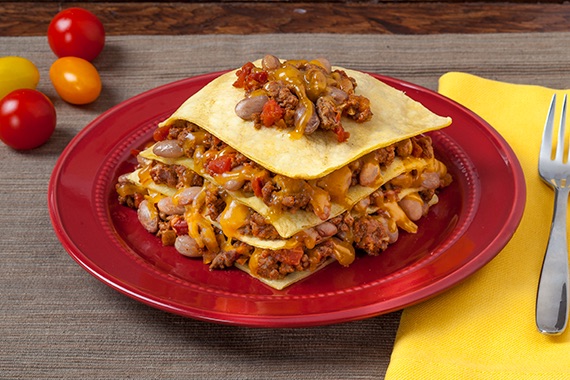 Featured Product
---
Ingredients
---
12
Mission Yellow Corn Tortillas
1
cup Canned diced tomatoes
2
cans (30oz) Pinto beans, drained
2
cups Shredded cheddar cheese (8oz)
Instructions
---
Step 1
Preheat oven to 400℉. Lightly oil a 13 x 9" baking dish.
Step 2
In a large skillet over medium heat, cook beef and chorizo, breaking up meat with a spoon, until starting to brown. Remove meat from skillet with a slotted spoon and drain on paper towels. Leave 2 tbsp. of fat in the pan. Add onion and garlic, and sauté until starting to soften, about 5 minutes. Stir in tomatoes, chili powder, salt, and cooked meat. Bring to a boil, then reduce heat slightly to simmer until mixture is thick, about 10 minutes.
Step 3
Spoon ⅓ of meat mixture into bottom of the prepared baking dish. Top with 4 tortillas, ⅓ of beans, and ⅓ of cheese. Top with another layer of 4 tortillas, ½ of remaining meat mixture, ½ of remaining beans, and ½ of remaining cheese. Top with another 4 tortillas, remaining meat, remaining beans, and remaining cheese.
Step 4
Bake until cheese is melted and dish is heated through, about 20 minutes.
---