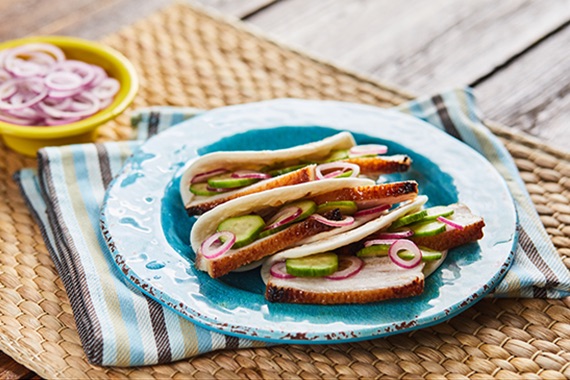 Featured Product
---
Ingredients
---
Mission Street Tacos Flour Tortillas
1 ½
lbs Skinless pork belly
2
lbs Skinless pork belly
2
Thick Kirby cucumbers, cut into 1/8-inch slices
Red onion, sliced into rings
Garnish with cilantro and sriracha
Instructions
---
Step 1
Put the pork belly in a roasting pan that holds it snugly, fat side up. Combine 1/4 cup salt and 1/4 cup sugar in a small bowl and rub all over the pork. Cover and marinate in refrigerator for at least 6 hours, but no more than 24 hours.
Step 2
When ready to cook: Preheat oven to 450°F. Pour out any accumulated liquid at the bottom of the roasting pan. Place pan with pork belly in the oven. Cook for 30 minutes, basting it with the rendered fat halfway through, until it's golden brown.
Step 3
Turn the oven temperature down to 250°F and cook until the pork is tender, another 2 hours, basting and turning as needed. Transfer the pork to a plate, decant the fat and the meat juices from the pan and reserve it for the tacos. Allow the pork to cool slightly.
Step 4
When cool enough to handle, wrap the pork in plastic wrap or aluminum foil refrigerate for at least one hour until it's thoroughly chilled and firm. When completely chilled, cut the pork belly into 1/2-inch-slices about 2 inches long.
Step 5
Combine the cucumbers with white vinegar, remaining sugar and salt in a small mixing bowl and toss to coat. Let sit for an hour. Use right away or refrigerate for up to 4 hours.
Step 6
When ready to serve, warm pork in a pan over medium heat for a minute or two, until soft and heated through.
Step 7
Warm tortillas for 10-15 seconds on each side in an ungreased pan.
Step 8
On each tortilla, layer pork belly slices, cucumbers, red onions, and cilantro. Add Sriracha to taste and serve.
---