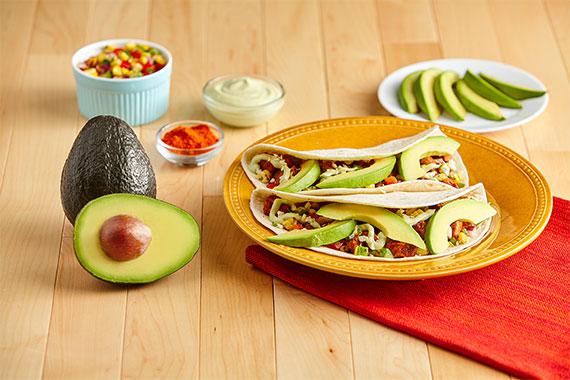 Pork Tacos with Corn Salsa & Avocado Crema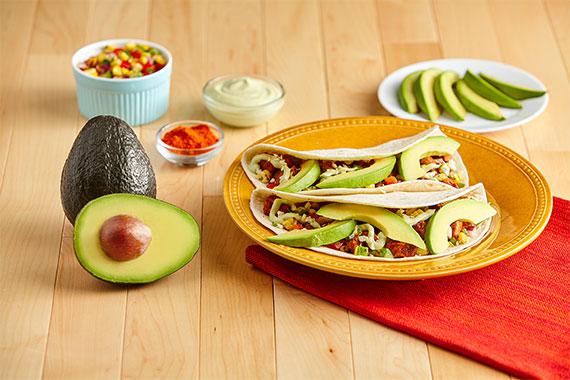 Featured Product
---
Ingredients
---
10
Mission Super Soft Flour Tortillas
----------------------------------------
1 ½
lb. Pork tenderloin cut into 1/4-inch cubes
1
tbsp. Chili powder, ancho chili powder
1
tsp. Garlic powder, ground cumin, brown sugar
½
tsp. Dried oregano, smoked paprika, onion powder, ground coriander
¼
tsp. Cayenne pepper (optional for more heat)
3
tbsp. Mild chopped green chilis (half of a 4 oz. can)
1
tbsp. Apple cider vinegar
----------------------------------------
1
Avocado From Mexico, pitted
----------------------------------------
4
Ears of sweet corn husks removed
¾
cup English cucumber, diced
2
Jalapenos seeded, deveined, minced (1 for mild)
⅓
cup Packed cilantro, minced
1
tbsp. Apple cider vinegar
----------------------------------------
Avocados From Mexico halved, pitted and sliced
Instructions
---
Step 1
While the pork is still on the cutting board, pat it dry then sprinkle it with all of the seasonings. Toss until evenly coated.
Step 2
Heat oil in a large cast iron skillet over medium high heat. Add the pork in a single layer and let brown for 1-2 minutes then continue to cook and stir just until cooked through (don't overcook, 145-155 degrees F).
Step 3
When almost cooked through, stir in green chilis, lime juice and vinegar.
Step 4
Taste and season with additional salt or cayenne pepper to taste.
Step 5
Add all of the Avocado Crema ingredients into a blender and blend until smooth, scraping sides down as needed.
Step 6
Prepare Corn Salsa any time before making pork and store in the refrigerator.
Step 7
Cut the kernels off of the cob. Heat 1 tablespoon olive oil in large cast iron skillet over high heat. Add the corn and cook, stirring occasionally, until corn starts to char approximately 5-7 minutes. Transfer kernels to a large bowl and let cool before mixing with other ingredients.
Step 8
Add all of the remaining Corn Salsa ingredients to the grilled corn and toss to evenly coat. Season with additional lime juice and/or salt and pepper to taste. Let rest for 30-60 minutes at room temperature to let the flavors meld or serve immediately. Corn Salsa will keep covered in the fridge for up to 4-5 days.
Step 9
Top tortillas with Pork, Corn Salsa, Avocado Crema, freshly squeezed lime juice, hot sauce to taste and optional Cotija. Cover with sliced avocados and serve.
---