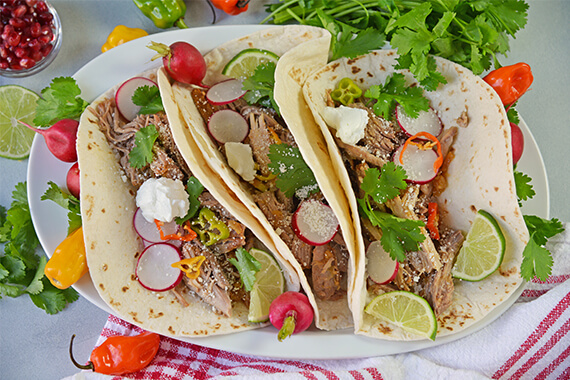 Featured Product
---
Ingredients
---
Soft Taco Flour Tortillas
4
lb boneless Pork shoulder, dabbed dry with a paper towel
1
Red onion, thinly sliced
¼
cup Honey or agave nectar
Instructions
---
Step 1
Heat pressure cooker to sauté function or heat a large Dutch oven over medium heat on stovetop.
Step 2
Add vegetable oil and then boneless pork shoulder, browning on each side, approximately 3 minutes per side.
Step 3
Meanwhile, in a small bowl, whisk together orange juice, honey (or agave nectar), Kosher salt, cumin, paprika, garlic powder and bay leaves. Set aside.
Step 4
If already in the pressure cooker, stop sauté function or transfer pork to the pot of your pressure cooker.
Step 5
Arrange raw red onions around the roast. Pour orange juice mixture over top.
Step 6
Lock lid in place and set on high pressure for 50 minutes with vent sealed.
Step 7
Allow natural pressure release for 15 minutes.
Step 8
Remove pork and using two forks, shred, discarding any large pieces of fat.
Step 9
Skim onions and 3 tablespoons of liquid out of remaining broth in pressure cooker pot.
Step 10
Toss shredded pork, cooked onions and broth in a serving bowl.
Step 11
Gently heat Soft Taco Flour Tortillas in a warm oven according to package directions. Serving them warm further enhances their taste.
Step 12
Serve carnitas with warmed flour tortillas and desired toppings.
---