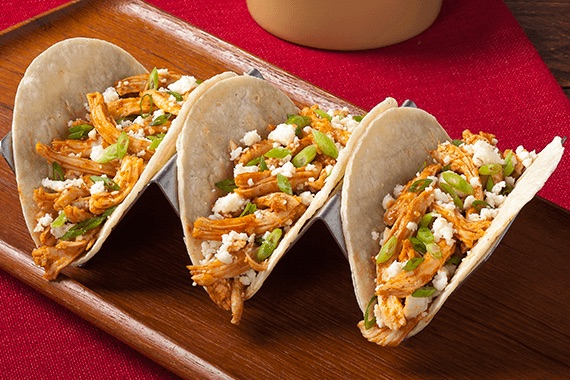 Pulled Chicken Tacos
This tasty Pulled Chicken Tacos recipe is quick, simple, and healthy. Loaded with juicy, shredded chicken and all your favorite mixings, then topped with queso fresco. Better than takeout. Ready in minutes. Enjoy the perfect, busy weeknight meal tonight.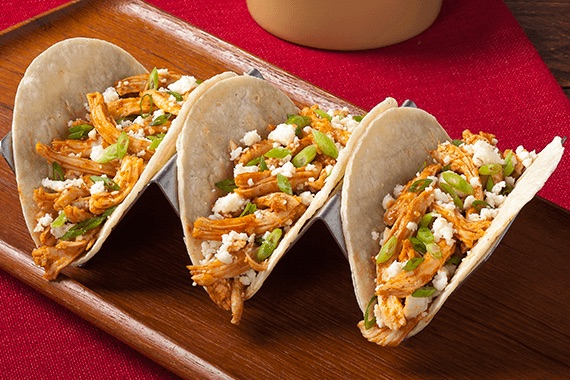 Featured Product
---
Ingredients
---
8
Mission White Corn Tortillas, warmed
2
Chicken breasts, boneless and skinless
2
Tbsp Vegetable oil, divided
½
cup Vegetable or chicken broth
½
cup Canned tomato sauce
½
cup Crumbled or shredded queso fresco (4oz)
Instructions
---
Step 1: Preheat Oven
Preheat oven to 425℉. Lightly oil a baking sheet.
Step 2: Bake Chicken
Place chicken on a baking sheet and rub with 1 tbsp. of oil. Bake until cooked through and interior reaches 165℉, 15-20 minutes.
Step 3: Mix Sauce
While chicken cooks, in a medium saucepan heat remaining 1 tbsp. of oil over medium heat. Whisk in flour and chili powder and cook 1 minute. Whisk in broth and tomato sauce, bring to a gentle simmer, and cook, whisking occasionally, until slightly thickened, about 15 minutes.
Step 4: Shred Chicken
Use two forks to shred chicken.
Step 5: Make Tacos
Toss shredded chicken in a medium-sized bowl with sauce. Serve on tortillas, and top your pulled chicken tacos with queso and green onion.
---