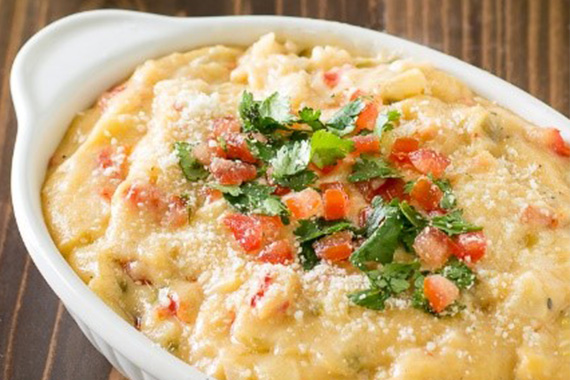 Featured Product
---
Ingredients
---
1
bag Organics® Blue Corn Tortilla Chips
10
oz cauliflower florets
8
oz pepper jack cheese, shredded
1
tbsp chopped jalapeño pepper
chopped cilantro for garnish
Instructions
---
Step 1
Place the cauliflower florets in a microwaveable bowl, add about 2 tablespoons water, cover with plastic wrap (leaving a little space uncovered for steam to vent), and microwave 4-5 minutes until the cauliflower is very tender.
Step 2
Drain the cauliflower and transfer to a food processor or blender. Add the garlic, milk, salt, and pepper. Process until well-combined and completely smooth. Set aside.
Step 3
In a large skillet, melt the butter, then add the onion, cooking until the onion is translucent.
Step 4
Add the cauliflower mixture to the skillet, then the pepper jack cheese, Parmesan cheese, jalapeño pepper, and tomato. Heat and stir until the cheeses are melted and the mixture is hot.
Step 5
Garnish with additional tomato, cilantro, and a sprinkling of Parmesan cheese. Serve with Organics Blue Corn Tortilla Chips for a really smart snack!
---