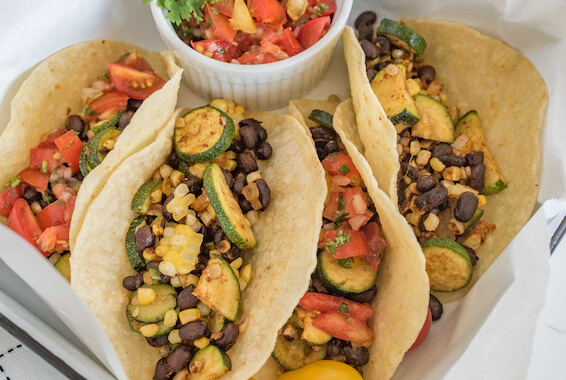 Roasted Zucchini, Corn and Black Bean Tacos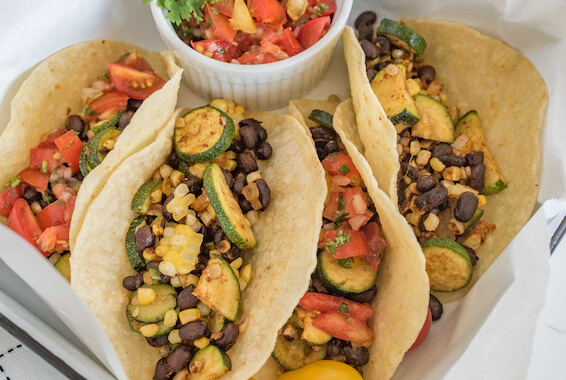 Featured Product
---
Ingredients
---
12
Mission Organics White Corn Tortillas
3
ears Sweet corn, kernels removed
¼
of a small Onion, finely chopped
1
Jalapeño, seeds removed and minced
1
cup chopped fresh Tomatoes
¼
cup finely chopped Sweet onion
Hot sauce, cheese, pickled jalapeños, etc for serving (optional)
Instructions
---
Step 1
Preheat your oven to 400 degrees F.
Step 2
In a medium bowl, combine the zucchini, sweet corn kernels, black beans, 1/2 teaspoon of kosher salt, chili powder, cumin, garlic powder, smoked paprika, onion, jalapeño (if using), and olive oil. Stir to combine well and coat everything evenly with the seasonings.
Step 3
Spread the zucchini mixture on a rimmed baking sheet and place it in the oven. Roast for 15 minutes.
Step 4
While the zucchini mixture is roasting, combine the fresh chopped tomato, onion, cilantro, lime juice, remaining 1/2 teaspoon kosher salt, and pepper in a small bowl. Stir to combine and set aside.
Step 5
Preheat a medium-sized cast iron skillet over medium high heat. When the skillet is hot, add one Mission Organics White Corn Tortilla at a time, cooking for about 15 seconds, then flip and repeat on the remaining side. The goal is to lightly toast and warm the tortilla.
Step 6
Place the cooked tortilla in a tortilla warmer or on a plate and cover with a clean dish towel. Repeat with remaining tortillas.
Step 7
When the zucchini mixture is done roasting, adjust salt and pepper to taste.
Step 8
Make a taco with 1 tortilla, a scoop of the roasted veggie mixture, and a spoonful of the fresh salsa, and give it all a squeeze of fresh lime. Add any additional ingredients you like such as cheese or hot sauce and enjoy right away.
---