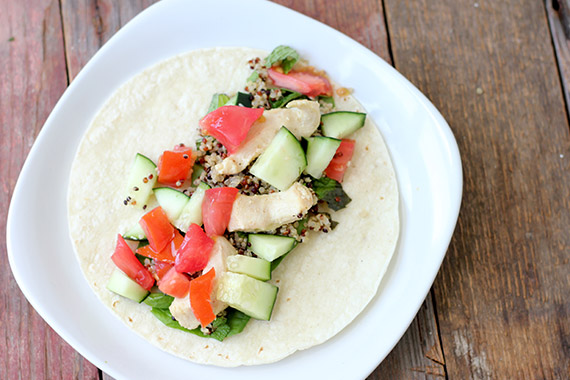 Featured Product
---
Ingredients
---
6
Organic White Corn Tortillas
¼
cup lemon juice (about half a lemon, juiced)
Instructions
---
Step 1
Slice chicken into 1/4-1/2 inch thick strips.
Step 2
Transfer to a bowl and toss with olive oil and lemon juice
Step 3
Heat medium-sized skillet
Step 4
Add chicken mixture to skillet and sprinkle with salt and pepper
Step 5
Cook, stirring occasionally until chicken is done through, and moisture is mostly evaporated. It's nice if you can let the moisture evaporate out and get some brownness on the chicken strips.
Step 6
While chicken is cooking, rinse quinoa and cook in 1 cup of water
Step 7
While chicken and quinoa are cooking, chop mint, cucumber, and tomatoes.
Step 8
When quinoa is done, mix in minced garlic and chopped mint leaves
Step 9
Heat tortillas by removing from package, placing on a plate, covering with a second plate, and microwaving on high 30-45 seconds, or heating one at a time on a hot skillet.
Step 10
Layer toppings on tortilla as desired, and enjoy!
---