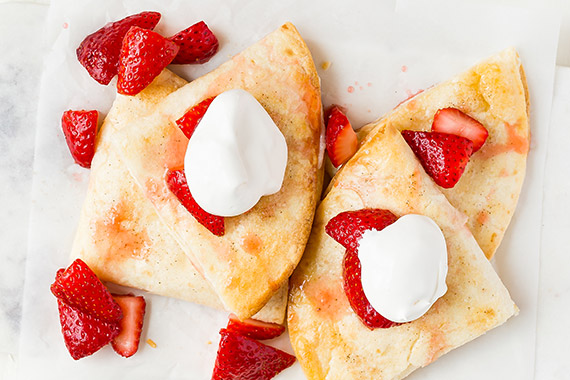 Strawberry Cheesecake Quesadillas
Our Strawberry Cheesecake Quesadillas recipe is carefully crafted to make your next meal time extraordinary. Get the step by step instructions to make this delicious dish.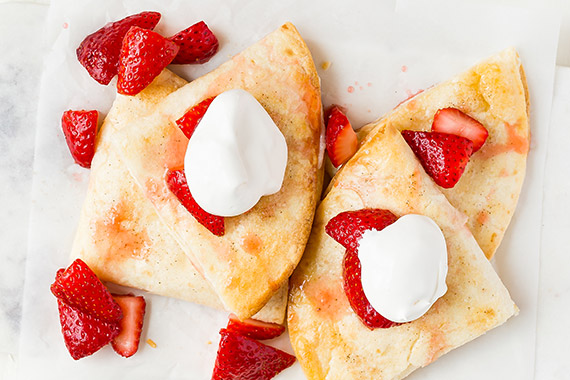 Featured Product
---
Ingredients
---
6
Organic Flour Tortillas
16
oz fresh strawberries, quartered
8
oz cream cheese, softened
½
confectioners' sugar, plus 2 tbsp divided
2
tbsp unsalted butter, melted
1
cup heavy whipping cream
Instructions
---
Step 1
Sprinkle 2 tablespoons of sugar over the strawberries. Stir to evenly coat. Set aside.
Step 2
Combine the remaining sugar and cinnamon in a small bowl. Set aside.
Step 3
In a small bowl, mix the cream cheese, vanilla, and 1/2 cup of confectioners' sugar together until smooth and creamy.
Step 4
Preheat the oven to 425°F. Divide the filling between the tortillas, covering half the surface. Fold in half and press down gently but firmly. Arrange the quesadillas on a large baking sheet.
Step 5
Bake for 4 minutes. Flip the quesadillas and gently press down with a spatula. Bake for a further 4 minutes or until they are a very light golden brown.
Step 6
Remove from oven and immediately brush with melted butter then sprinkle the quesadillas with the cinnamon sugar mixture.
Step 7
Using a hand mixer or a stand mixer fitted with a whisk attachment, beat the heavy cream and remaining confectioners' sugar on medium-high speed until soft peaks form, about 3 minutes.
Step 8
Arrange quesadillas on a serving plate and layer with strawberries and whipped cream. Serve immediately.
---