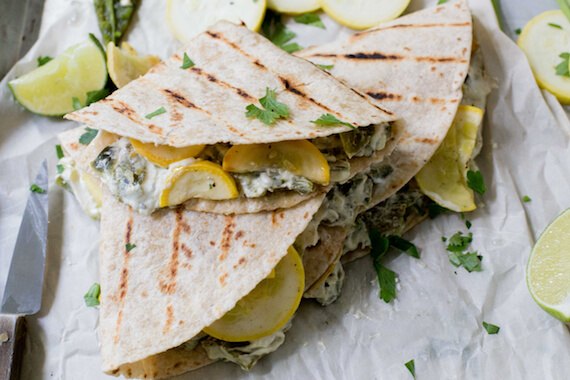 Summer Squash Goat Cheese Quesadillas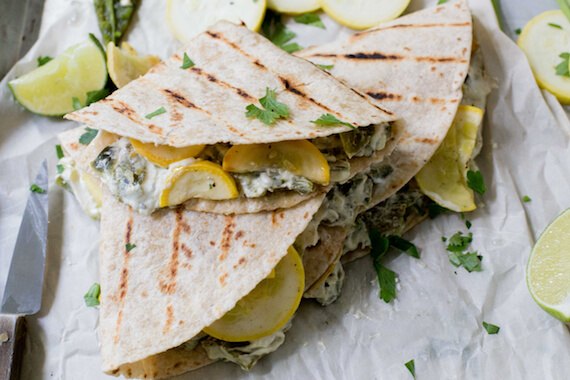 Featured Product
---
Ingredients
---
4
Mission Organics Whole Wheat Tortillas
2
Zucchinis or any summer squash, cut into slices
220
grams Soft goat cheese
Instructions
---
Step 1
In a medium skillet, heat a teaspoon of oil and sauté the zucchini on medium heat for 5 minutes. Season with salt and pepper.
Step 2
At the same time, burn the poblanos on the open flame until they are black. Rotate them with a pair of tongs. Place in a dish and cover for 10 minutes. Scrape everything burned; the easiest is to do it under the tap. Cut the top of the peppers and remove the seeds.
Step 3
Dice the roasted poblanos, mix with the goat cheese. Season with salt and pepper and stir.
Step 4
Heat a skillet or griddle over medium heat. Place two tortillas on top, turn after 10 seconds and fill with a quarter of the goat cheese mixture, place 1/4 of the cooked zucchini and fold the tortilla.
Step 5
Cook for 1 minute and turn, cook until the cheese melts and the tortillas are toasted and crispy.
Step 6
Cut into triangles and serve immediately sprinkled with cilantro.
---