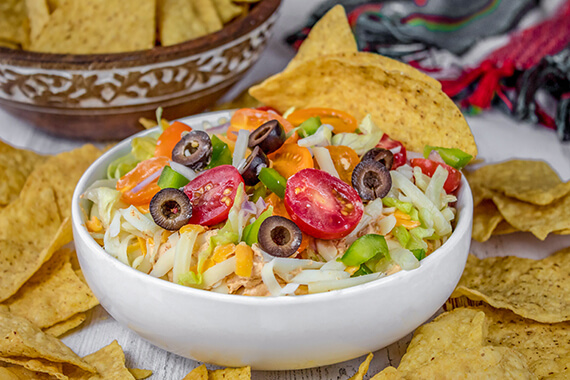 Featured Product
---
Ingredients
---
1
bag Mission Thin & Crispy Tortilla Chips
2
sticks Cream cheese, softened
1 ½
cups Assorted tomatoes, sliced in half
1
Green bell pepper, diced
½
cup Black olives, pitted & sliced
Instructions
---
Step 1
In a bowl, add softened cream cheese, sour cream, and mild taco seasoning. Using electric mixture, if possible, combine all the ingredients together until it is smooth in texture.
Step 2
Transfer the mixture to the serving dish and add all desirable toppings, preferably fresh.
Step 3
I used toppings that we usually add to our tacos, so it made perfect sense to add lettuce, tomatoes, bell pepper, jalapeño and black olives.
Step 4
Keep the dip cold before serving and serve with Mission Thin & Crispy Tortilla Chips.
Special Notes
1) Refrigerate dip if you are not going to serve it right away. 2) For best taste, use whole milk dairy products. 3) Use fresh ingredients for the toppings, as they are preferably the best to make this dip colorful and at the same time, beautiful and tasty.
---