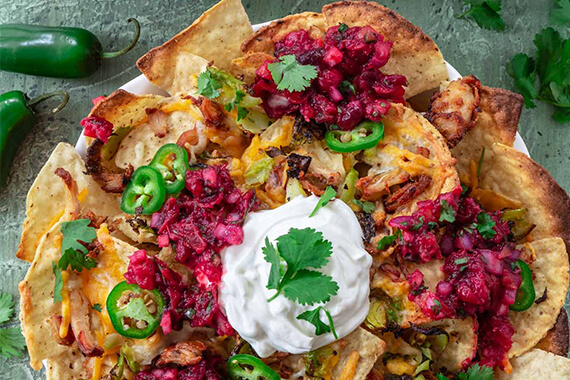 Thanksgiving Leftover Turkey Nachos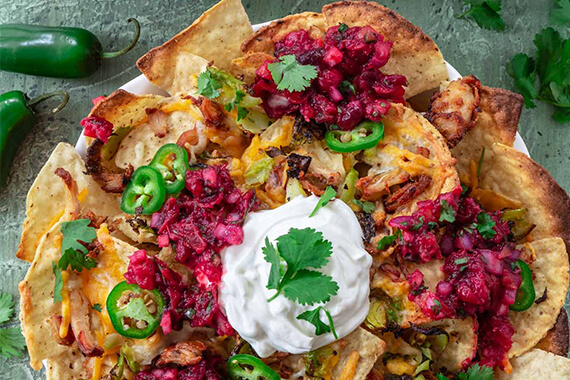 Featured Product
---
Ingredients
---
1
bag Triangles Tortilla Chips
2
Tbsp Vegetable oil (or turkey drippings)
3
cups shredded leftover Turkey (white or dark meat)
1
small Red onion, chopped
2
Tomatoes, seeded and chopped
1
Jalapeño, seeded and chopped
½
cup leftover Cranberry sauce
1
cup Monterey Jack cheese
leftover roasted Brussels sprouts, sliced
A dash or two of Hot sauce
Instructions
---
Step 1
To make turkey carinas: Heat the oil (or drippings) in a large nonstick or cast iron skilled, over medium high heat, until shimmering. Add the shredded turkey, spreading into a single layer, and cook without stirring, for about 5 minutes or until browned and crispy. Stir and continue cooking until the turkey carnitas as as crisp as you like. Season with salt and reserve.
Step 2
To make the cranberry sauce salsa: Combine the chopped onion, garlic, tomatoes, jalapeño, cranberry sauce, lime juice and zest and cilantro in a medium bowl. Season with salt and reserve.
Step 3
Preheat oven to 400F degrees.
Step 4
Spread half of the chips on a large cast iron, oven proof dish or baking sheet. Add half the turkey carnitas, Brussels sprouts (if using), ½ cup of cheddar and ½ cup of Monterey Jack. Top with the remaining chips, turkey carnitas, cheese and Brussels sprouts. Bake until the cheese is melted and chips are toasted, about 10 minutes.
Step 5
Top with the cranberry sauce salsa, sliced jalapeños, cilantro and a dollop of sour cream. Serve immediately, squeezing some lime juice on top if desired.
---