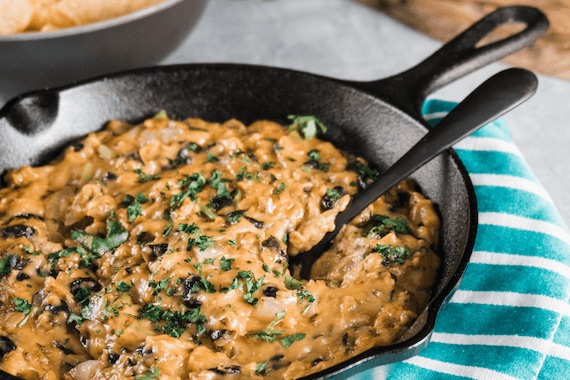 Featured Product
---
Ingredients
---
1
9oz bag Mission Thin & Crispy Tortilla Chips
½
Yellow onion, peeled and chopped
2
Jalapeño peppers, seeded and diced
1
cup Fresh cilantro, chopped
1
cup Meatless soy "beef" crumbles
15
oz Black beans, drained and rinsed
2
cups Cheddar cheese, shredded
1
cup Monterey jack cheese, shredded
Instructions
---
Step 1
Heat olive oil over medium heat in a large, deep pan.
Step 2
While pan is heating, combine the shredded cheddar and Monterey jack cheeses in a large bowl.
Step 3
Add the almond flour to the cheeses, and toss gently to coat the cheese with flour. Set aside.
Step 4
When oil is hot, add the onions and jalapeño peppers, and cook for 4-5 minutes until softened.
Step 5
Add the meatless soy crumbles to the veggies, and cook for 5-6 minutes, until slightly browned and warmed through.
Step 6
Add black beans, scallions and half of the cilantro. Stir and cook for 1-2 minutes. Add milk to the pan, and allow to heat until just beginning to boil.
Step 7
Slowly add the cheese, one small handful at a time, stirring until melted. When all the cheese is melted and smooth, add salt and pepper to taste.
Step 8
Remove from heat, and top the vegetarian chili cheese dip with the remaining cilantro. Serve with tortilla chips. Enjoy!
---