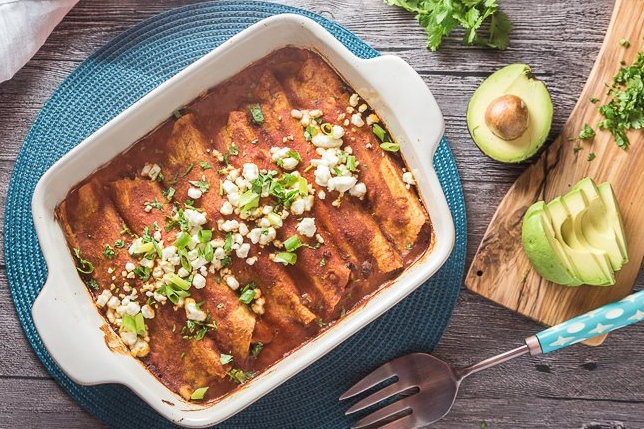 Featured Product
---
Ingredients
---
6
Mission Gluten Free Tortilla Wraps
3
cloves garlic, peeled and minced
½
yellow onion, peeled and minced
1
jalapeño, seeded and finely chopped
2
15oz cans black beans, drained and rinsed
1
cup corn kernels, fresh or frozen and rinsed
6
oz goat cheese, crumbled
1
tablespoon dried oregano
1
avocado, peeled and sliced (optional)
Instructions
---
Step 1
Heat a drizzle of olive oil over medium heat. Add half of the garlic and half of the jalapeño. Cook for 3 minutes, until soft and golden.
Step 2
Add the tomato sauce, oregano, basil, chili powder, cumin, salt and pepper. Stir and bring to simmer.
Step 3
Cook for 10 minutes to combine flavors, stirring occasionally. Set aside.
Step 4
Preheat oven to 400 degrees.
Step 5
Heat olive oil in a large, nom-stick pan over medium heat. Add onion, remaining garlic and remaining jalapeño. Cook 4 – 5 minutes until softened and slightly golden.
Step 6
Add black beans and corn, and cook for 3 – 4 more minutes.
Step 7
Add goat cheese and stir until well combined.
Step 8
Spread a thin layer of enchilada sauce in the bottom of a large baking dish.
Step 9
On a cutting board, lay out the tortillas. Spread goat cheese-veggie filling down the center of each tortilla. Roll tortilla up around the filling, and line them up tightly in the baking dish.
Step 10
Step 11
Sprinkle with remaining goat cheese and bake for additional 5 minutes.
Step 12
Remove from oven. Serve topped with cilantro and scallions. Serve avocados on the side, if desired.
---